Set yourself up for a great day out on the water by checking these key things every time you head out.
Safety first
Got lifejackets for everyone on board? Two forms of waterproof communications? Checked the weather? Making sure you'll be safe on the water no matter what might happen is key to enjoying the day, stress free!
VHF radio working?
Know your local VHF channels, and give Coastguard a call on your local channel to do a radio check if you think there's a problem. Don't forget to have at least one other form of communication, in case the radio does pack up.
Are your batteries okay? 
Check your batteries are holding enough charge to get you home after a day of using your on-board electronics. 
Got plenty of fuel?
Over 30% of Coastguard callouts involve fuel issues. Safe yourself the embarrassment by remembering the 'thirds' rule:
1/3 fuel getting there

1/3 for getting back, and

1/3 in reserve, just in case!
Nav lights
They're easy to overlook, but if you're on the water at night they're invaluable. Check the navigation lights are working well every time you head out.
Clean below? Good to go!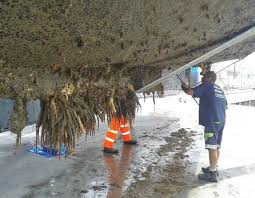 Here's one that many boaties (especially those who keep their boats in the water) often overlook. Make sure your hull stays fresh - a clean hull means a smoother ride, and helps stop the spread of marine pests.
Many marinas around the country may actually turn you away if your boat's hull is covered in marine pests. So make sure you're clean below! Find out more about marine pests and keeping your hull clean.
Boatie's Best Mate.
Get a Coastguard membership today for peace of mind when you're out boating.