Like in a car, it's a good idea to keep on top of the service schedules for your boat and all the gear onboard. 
The difference is that there's a lot more gear to keep up-to-date on your boat - and it's much more vital that you do so!
Since it's easy to forget what needs a service, and when, here's a handy checklist.
Safety gear
Your inflatable lifejacket
Check every time you wear, and self-service annually.
An inflatable lifejacket is comfortable and slim-fitting, but needs more care than a regular foam lifejacket to make sure it inflates when you need it to.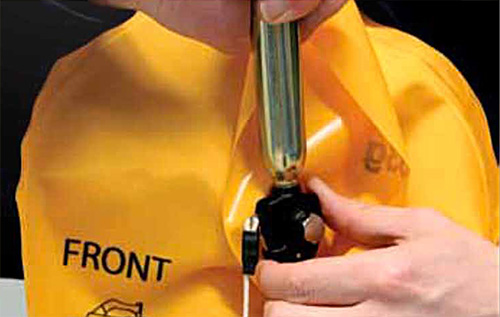 Give your lifejacket the once over every time you wear it, for any obvious damage. You can self service your lifejacket (at least annually), paying attention to the following:
check the CO2 cylinder is screwed in properly, and has no corrosion
check for any bladder punctures (inflate your lifejacket overnight, and see if it's still fully inflated in the morning)
check you can access the inflation pull cord
look for any sun damage or tears.
Flares
Should be replaced by the expiry date.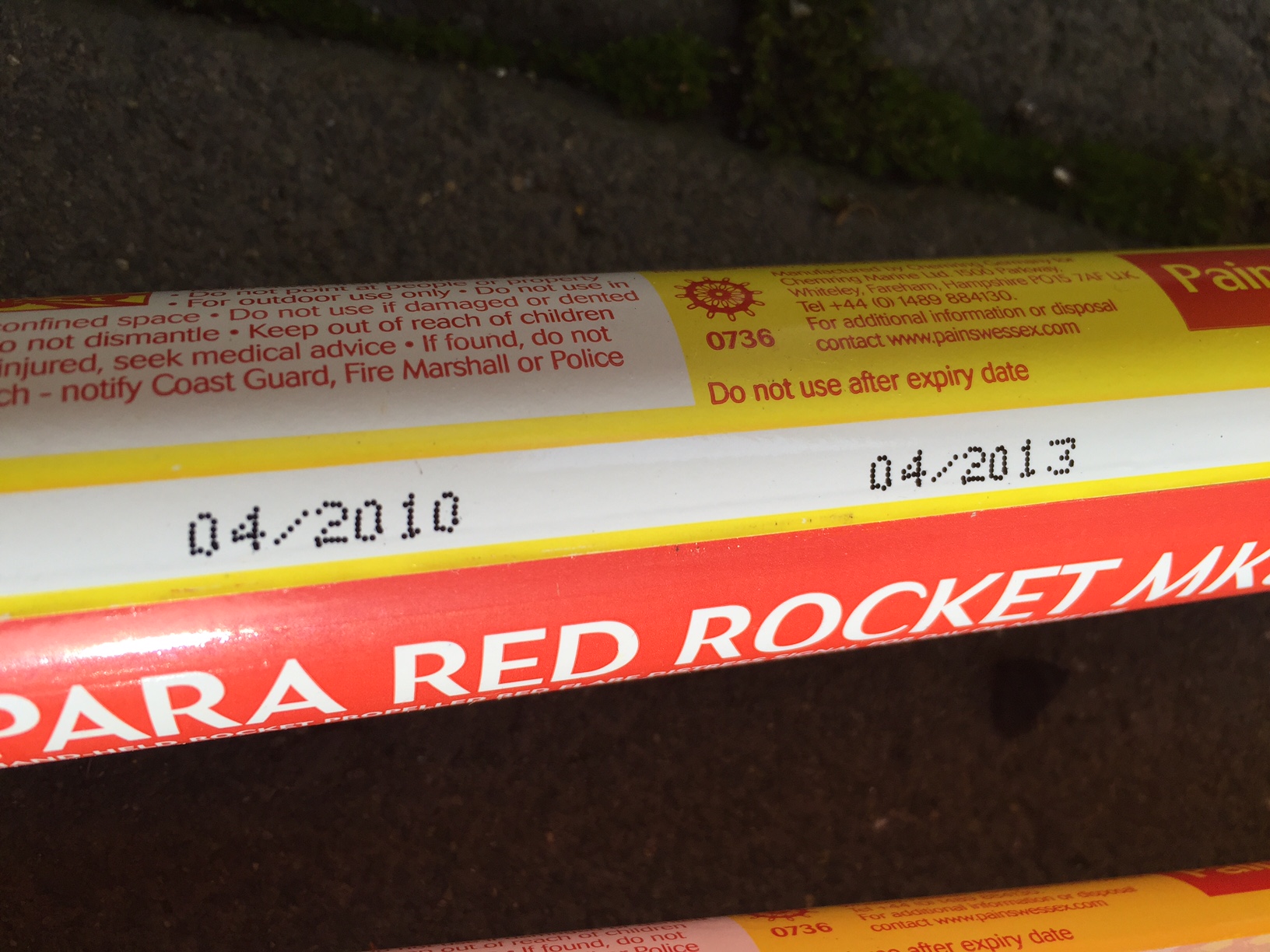 Flares have an average lifespan of between 3-5 years.
After that the propellant starts to degrade, meaning that you risk your expired flare not firing at all when you need it.
The expiry date should be printed on each flare. If you can't read the expiry date or the flare shows signs of age (eg. rust around any metal parts, worn labels) replace them anyway. Read more about flares.
EPIRB or PLB 
Battery needs to be replaced by the expiry date.
The long-life, non-rechargeable battery on your EPIRB or PLB is usually guaranteed to last at least five years, and often as much as ten.
Check the expiry date listed on the side of the beacon, to ensure the batteries are still within their use dates. Give it a test every so often - there should be a test button which won't transmit a signal, so you know the beacon is still working correctly.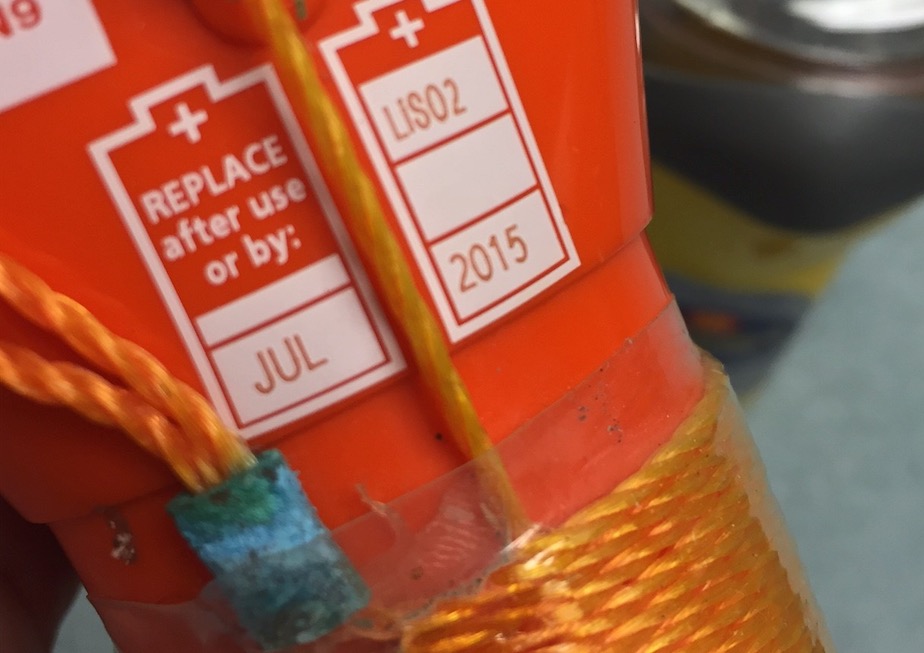 With some emergency beacons the battery can be replaced, but you'll probably find the cost isn't vastly different from buying a brand new beacon.
It's worth noting that beacon technology has advanced hugely in the last decade - many beacons include GPS as standard now - so it's worth investing in a new emergency beacon to ensure you've got the latest and greatest.
Also make sure that your beacon transmits on the 406MHz frequency. Older beacons (especially those over a decade old) may only transmit on 121.5MHz, which has been phased out as an emergency frequency and is now used mostly by aircraft.
Using an older beacon in an emergency may mean a confirmed satellite detection is significantly delayed, sometimes as much as five hours - so update your old one today. Find out more about beacons.
Fire extinguisher
Check the gauge monthly, service it annually.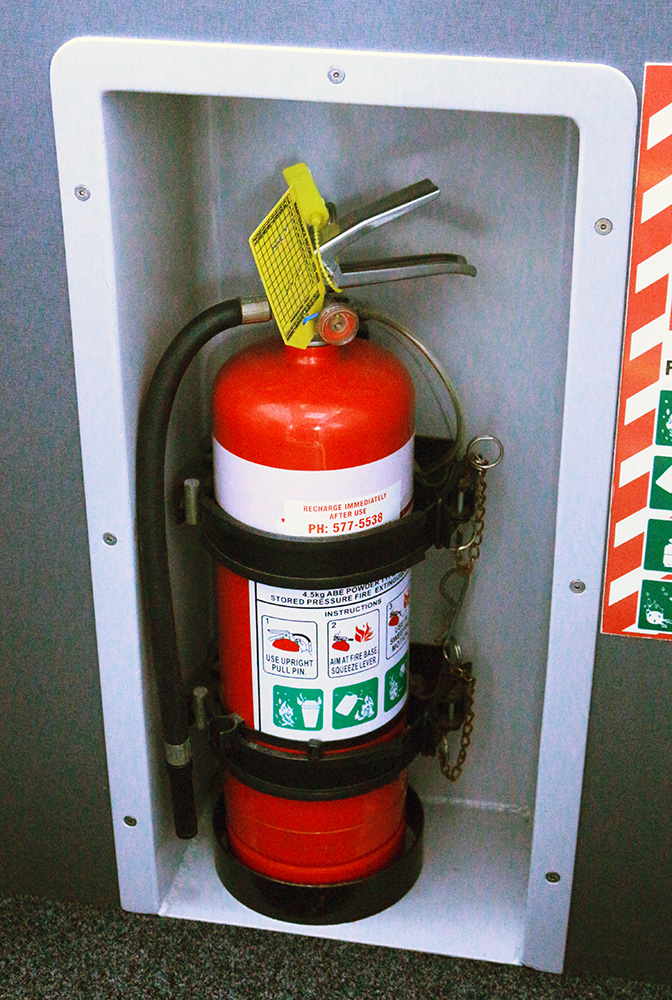 Most fire extinguishers are designed to last anywhere from 5 to 15 years. Each extinguisher should have a maintenance sticker or yellow tag attached to it; check the service date listed on that.
But a five-second check of the pressure gauge, to ensure it's still in the green, should be done at least monthly - you don't want an "in-date" fizzing out on you, simply because the unit has lost pressure in between service dates! You should also invert the extinguisher regularly to ensure the powder inside doesn't settle at the bottom of the canister.
It goes without saying you should recharge the extinguisher at an authorised dealer, or replace it, if you've had to use it. But you should also get it checked if you notice any of the following:
the hose or nozzle is damaged or cracked
the locking pin is missing - it might mean the extinguisher has been fired, or means it could do if not stowed properly
inspection tag is missing - you won't know when it was last inspected.


Your trailer
Warrant of fitness every 6 months.
Don't forget the trailer WOF, which needs doing every six months (or only every 12 months, if your trailer was manufactured from 2012). Prices vary from around $25 to $50.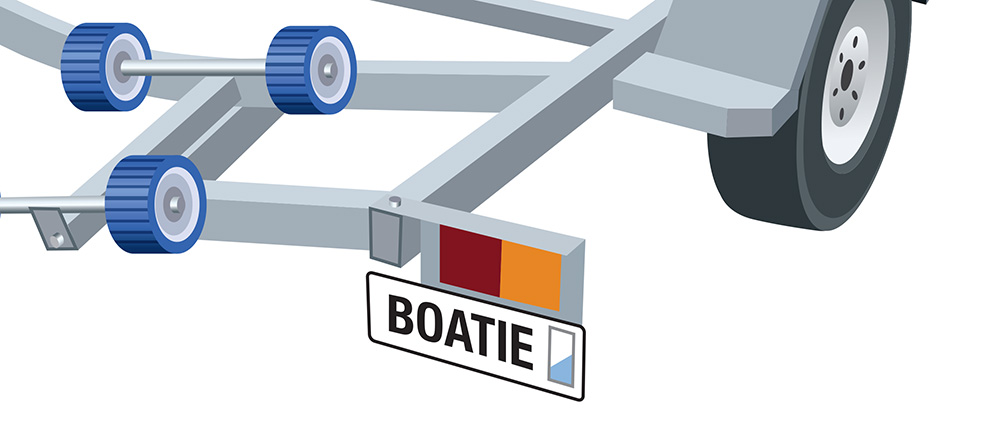 Find the latest trailer licensing (rego) fees here.
It's a good idea to try to sort both your rego and warrant at the same time, to avoid missed payments - if you let your rego lapse, fines can get steep very quickly.
The rest
Boat insurance
While it can seem like just another bill in a long line of them, and can be easy to overlook, you'd be kicking yourself if you weren't covered for any accident on the water.
Make sure your insurance is up-to-date, and that it covers your boat fully (and includes your fishing and personal gear aboard). Tower is our preferred Boat insurer, check out what's on offer or get a quick quote.
Your Callsign
Once you've purchased a callsign, it's yours for life - it never expires. But you do need to keep it updated especially if you've upgraded the boat or changed your contact details.
It's simple to do - just update your details on the Boating Education website.
Your Coastguard Membership
You can never be prepared for everything, whether it's a flat battery or something more serious, so make sure you've got your Coastguard Membership sorted before you hit the water. If you run into trouble, Coastguard will have your back with free assistance!
Membership is only $130 a year, so sign up today.
Boatie's Best Mate.
Get a Coastguard membership today for peace of mind when you're out boating.