Weather not showing on the app? Here's how you can fix it!
If you need help updating your Coastguard app, please give us a call on 0800 BOATIE (0800 262 843) Monday to Friday, 8:30am – 5pm.
Nowcasting or Wind Direction not showing? Go to the end of the page for details.
5 Day View weather not showing?
On 31 May 2022 there was a change to the weather feed that powers the app's 5 Day View. If you don't have the latest version of the app, the weather info may show in your app after this date.
Updating your app to the latest version should sort it, there a couple of ways to check what version you're on and to update your app:
1. Check the App Store or Google Play
a. Look for one of the icons below on your phone: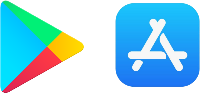 b. Tap the icon to go to Google Play (if you have an Android phone) or the App Store (if you have an iPhone)
c. Search for Coastguard NZ
d. If it says OPEN next to the Coastguard app in the store, you're all up to date and there's nothing more to do. If it says UPDATE, just tap the update button and you'll have the new version in no time.
2. Check the version number in your app
a. Open the app, tap MENU in the top right, then select ABOUT at the bottom right
b. If you see App Version 1.3.2.12 (for iPhone) or App Version 1.3.2.105 (for Android), then you've got the latest version (accurate as at 26 May 2022)
c. If you can  not, just follow the steps above to update.
If none of this is making sense, we're here to help – just email and let us know what type of phone you have and the issue you're experiencing, or give us a call on 0800 BOATIE (0800 262 843). The team are around Monday to Friday, 8:30am – 5pm (not including public holidays), and are here to help.
Wind Direction at Bean Rock
There is a technical fault with the Nowcasting equipment at Bean Rock (NZBNW), and due to access issues at this site, the Nowcasting service that provides the Wind Direction, Average and Peak wind Speed will soon be retired. A new site will be established on the mainland in the same area soon, we will update users as soon as we have a timeframe. (Update published 3 June 2022)
Boatie's Best Mate.
Get a Coastguard membership today for peace of mind when you're out boating.