A lifejacket is your key piece of safety equipment on the water.
A quick way for a good day to go bad is not having lifejackets, or not wearing them when you need to. It's just like a seatbelt – lifejackets keep your mates and family safe out there if anything goes wrong.
Whether you're out in some remote spot or in sight of land, you'll want a lifejacket that gives you plenty of buoyancy in the event you end up in the water. In many places around NZ, there are regional bylaws that state you must wear a lifejacket when you're out on boats under 6m in length. But when the stats say that two-thirds of those who drowned could've survived simply by wearing a lifejacket, why wouldn't you make sure you and your family are safe on the water?
Coastguard recommends Hutchwilco lifejackets - they've been a huge supporter of Coastguard for many years, and all our volunteers use their inflatable PFDs on our rescue vessels. If you're in the market for an upgrade or need more for family and friends, check out the great range of Hutchwilco lifejackets for adults, kids (and pets!) at Marine Deals. 
General boating and sailing
There are two main types of lifejackets on the market for recreational boaties: foam jackets that float on their own, and inflatable jackets that require inflating. Choose the type that is appropriate for who will be wearing it and the type of boating you're doing.

Inflatable lifejackets are great pieces of kit - they're comfortable to wear and provide plenty of buoyancy when activated. However, there are a couple of things to be aware of.

First, they come in automatic and manual activation models, so you need to consider how the wearer would react to being unexpectedly in the water. Would they remember to pull the toggle on a manual jacket? An auto-inflate or foam jacket might be more appropriate for younger wearers or novice boaties.

Secondly, inflatable jackets require an annual inspection to make sure that the bladder hasn't been punctured, the gas canister hasn't come loose, gone rusty or been accidentally activated and wrongly reassembled. Hutchwilco have a good YouTube video on servicing an inflatable lifejacket, but if in doubt, get your inflatable lifejacket professionally serviced.

Foam jackets should also be visually inspected to ensure they are in good condition with straps and clips in good order. Foam jackets are designed for different boating activities and provide various levels of buoyancy.
When doing your checks, you may find that you have some old, bulky orange lifejackets kicking around. Kapok-style jackets are unsafe and shouldn't be used - with age they can absorb water and do more harm than good if you end up in the water. Cut these up and get rid of them for everyone's safety.
Inflatable lifejacket
Pros:
Can be activated manually (pullcord) or automatically
Designed to keep wearer upright if unconscious
Comfortable and convenient
Provides at least 150N of buoyancy, with some models offering up to 300N
Good for open waters
Can be inflated using a mouthpiece
Cons:
Needs annual servicing
You need to replace the gas cylinder after every time you inflate the lifejacket
Can be punctured by accident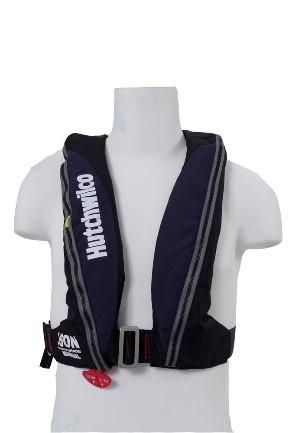 Foam lifejacket
Pros:
Has a buoyant collar, to help keep head above water
Comfortable and convenient
Provides some protection from the elements
Provides at least 71N of buoyancy
Compatible with crotch strap
Cons:
Not designed to flip an unconscious user onto their back
Not suited for rough conditions (best for inshore use)
Read more about how to look after your lifejacket.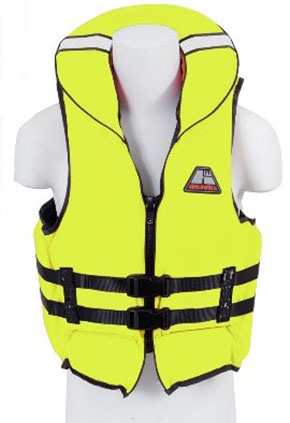 For the kids
You can get kids lifejackets to suit children right from toddlers to those entering their teens. Inflatable lifejackets are best suitable to adults who are comfortable in the water, so we recommend foam lifejackets for younger people.
One size fits all, right? Wrong! Make sure you get the right fitting lifejacket for your kids – the buoyancy is based on weight, but make sure it's a snug and good fit too.
Read more about how to choose a well fitting lifejacket.
Remember: don't be tempted to buy a lifejacket for the kids to "grow in to". A lifejacket that's too big can easily slip over the head in an emergency, so get a good snugly fitting lifejacket for your loved one.
Kayaking and SUP
Paddle and buoyancy vest
As you're less likely to be kayaking or paddle boarding miles from land, slimmed down buoyancy vests give you a good level of protection for low-speed and calm-weather activities.
Pros:
Designed to give freedom of movement.
Provides good hypothermia protection.
Has reflective material and bright colours for maximum visibility
Comfortable
Cons:
Not as buoyant as a full lifejacket
No collar
Not designed to flip an unconscious user onto their back
Lower levels of support and safety compared to larger lifejackets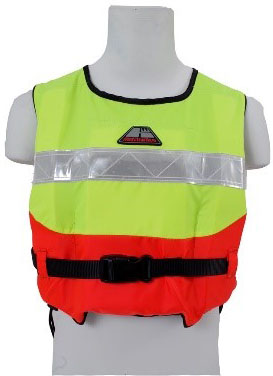 Buoyancy vest
You'll want plenty of freedom and movement, but with added protection in case you come off at speed. And while being towed around on a tube is great summer fun, you're bound to come off at some stage – so having a buoyant lifejacket that doesn't cause injury, but keeps you afloat if you get knocked out, is crucial. 
Pros:
Lots of buckles to ensure the lifejacket doesn't come off, if you do
Added foam helps protect the wearer in the event of a high-impact wipeout
Cons:
Some models may lack a collar
Not designed to flip an unconscious user onto their back
Not intended for use at night
May not be suitable for all conditions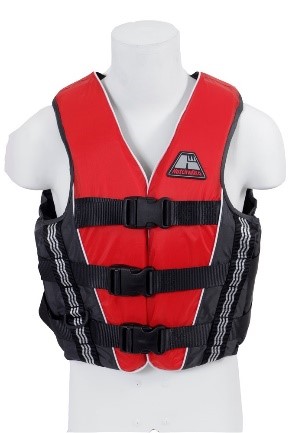 Operate a small charter business? Regulations for commercial operators are very strict. 
Open water lifejacket
Open water lifejackets are usually required aboard commercial, fishing or charter vessels. Check the Maritime NZ site for details.
Pros:
Designed to flip user onto their back, in the event they are knocked unconscious
Minimum buoyancy at least 100N
Best suited for emergencies
Cons:
Bulky
Not very comfortable for continuous wearing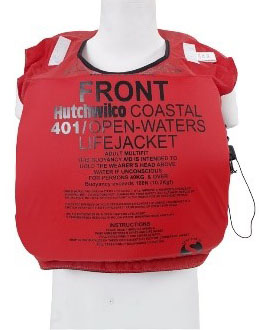 There are specialist lifejackets for racing, rafting and long-distance sailing as well, each with their own specific benefits.
You can even get a lifejacket for your dog!
For specialist activities, have a chat with your local marine retailer.
Remember: any lifejacket is still better than no lifejacket!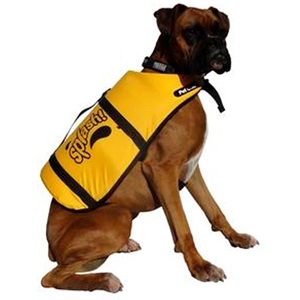 General tips on buying a lifejacket
Buy one suited to the activity you're going to do most. Try out the 'Help me to choose' tool with Hutchwilco for guidance.
Try it on

 

– you need a lifejacket to fit, so go into a store and try it on. If you can't close the buckles or do up the zip on the front, get a larger size. If you're comfortable in it, you're more likely to wear it.
Don't try to skimp on price.

 

Buy a quality lifejacket and replace it if it gets worn or damaged. Your life is worth it!
Remember to

service your inflatable lifejacket

 at least annually. It's no good if you need to use the lifejacket in an emergency, and it refuses to inflate.

 
Boatie's Best Mate.
Get a Coastguard membership today for peace of mind when you're out boating.